The Intro-Tech Automotive Ultimate Reflector™ Custom Folding Auto Shade is manufactured using a superior quality multi-layered material with a reflective mylar heat barrier that reflects harming UV rays.

Computer precision cut for a custom fit, it reduces inside temperatures up to 40 degrees Fahrenheit. It protects leather seats from becoming hot and cracking while keeping the steering wheel and shift knob comfortable to the touch. Beautifully finished with a UV resistant, non-abrasive velour binding; it folds in seconds for easy storage in it's own storage bag. The Ultimate Reflector shade is also reversible for winter usage!

Lifetime warrantied, and designed to perform, this interior saving accessory is a must have for all owners concerned with lowering temperatures inside their parked vehicle.

The Ultimate Reflector is available in over 2,600 custom fit windshield applications for cars, trucks, SUV's and minivans. Custom patterns are also available upon request.
Click on images to open slideshow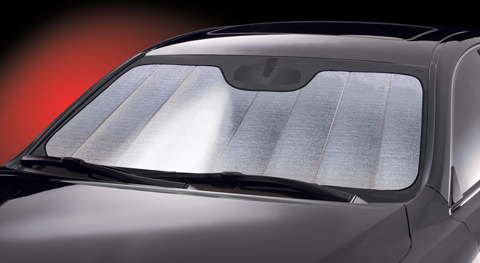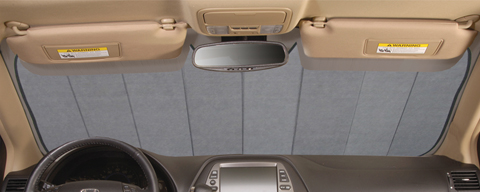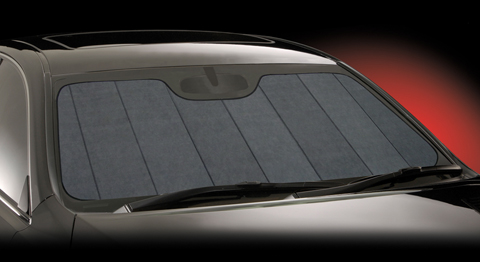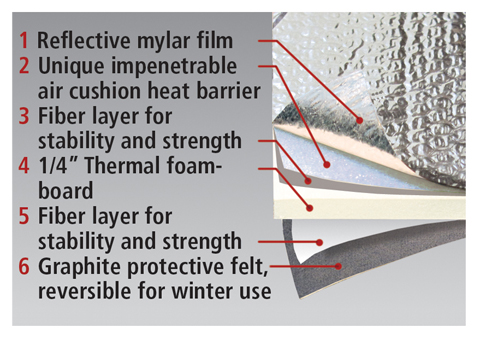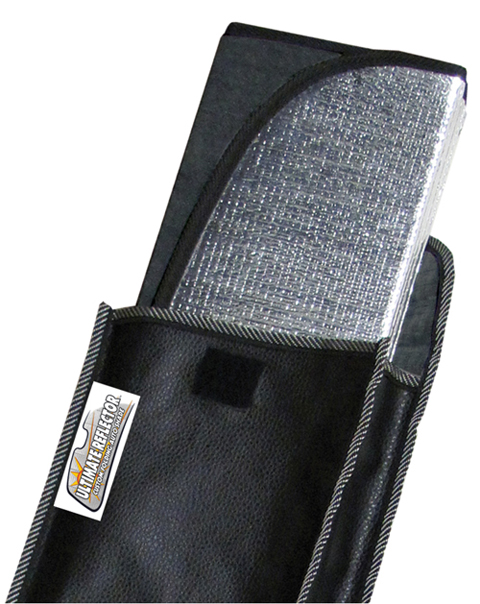 The absolute, ultimate automotive sunshade!
Return to a cooler parked vehicle, including steering wheel, gearshift and seats.
Hi-tech, incredibly reflective mylar and multi-layered heat barrier materials can prevent heat buildup by as much as forty degrees Fahrenheit.
Designed to fit the inside of your specific vehicle's windshield.
Prevents ugly, costly dashboard cracks and fading.
Unfolds and installs in seconds... stores in it's own storage bag.
Finished with a non-abrasive velour binding.
Over 2,600 custom patterns are available for cars, pickups, sport-utilities, minivans and vans.
REVERSIBLE FOR WINTER USAGE! - the Ultimate REFLECTOR Custom Folding Auto Shade when reversed, acts like a thermal blanket. The graphite protective felt, makes it reversible for winter use.
Lifetime Warranty